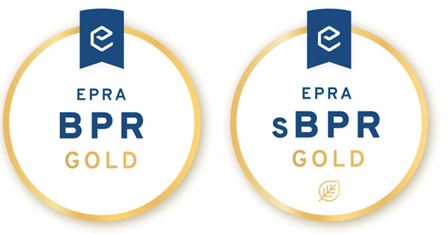 We are delighted to again retain our two EPRA Gold awards for both our 2021 Annual Report and our 2021 Sustainability Report.
As an EPRA member, we are committed to being transparent and improving our reporting to our stakeholders and wider audience across the EPRA Performance Measures.
The annual EPRA BPR awards aim to improve professional standards and the consistency of performance reporting across listed real estate companies in Europe.
This year marked the 10th anniversary of the Sustainability Best Practices Recommendations (sBPR) since their launch in 2011. EPRA encourages disclosure and transparency on ESG related risks and on environmental performance across the portfolio. You can read our latest Sustainability Report here.